Day one of the Entry Redo, Redo. :)
Please excuse the bad lighting. These were taken tonight, with no natural light, and very dim artificial.
So, when I left the entry last, it was looking sort of like this, at least the main stairway wall was:
I decided, the photo wall (even considering the messed up state it was in) just wasn't going to do it for me. I might eventually add 3 large photos back, but the rest will go elsewhere (repainted and refilled, of course).
So, first I removed the photos and was left with a clean slate looking something like so:
Without stirring the paint, so it was sort of soupy, I just started painting on the trees. I then used q-tips and paper towels to quickly remove the paint to make the crevices. I also used the natural marks left by the brush to my advantage, letting them work as bark-like texture.
I then went back and added another coat of white to create highlighting where wanted.
I plan to continue this around the entry way, but for one evening of work so far, I am REALLY happy with the way it has turned out so far.
And one with my little helper, just for good measure. :)
Thank goodness for a perfectly timed long weekend. Yay! :)
Linking up to: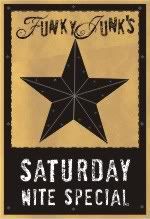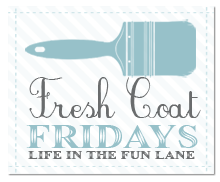 Life in the Fun Lane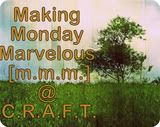 C.R.A.F.T.